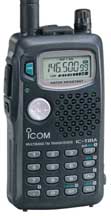 Icom IC-T81A Quad-Band Handheld Transceiver
My first radio was a T8A, and this came out soon after. Eventually, I had to get one. Works four bands, 6 meters, 2 meters, 70 centimeters and 23 centimeters all with the same rubber duck. (If you have an xray picture of the ducky, I'd love to see it!) Light, weighs about 10 ounces. Comet/NCG makes a triband antenna that gives 1/4 wave on 6 and 2 meters, and 5/8 on 70 centimeters. Transmits at about 5 watts on high power, 0.5 watts on low power on the 6/2/70 bands; 1 watt on high and 0.1 watt on low for the 23cm band

Good all around useful radio. Filtering isn't all that great, and so it picks up some intermod downtown. Great for working 6-meter repeaters, though! Includes CTCSS tone encode and decode, and tone scanning. Only one VFO. Has this newfangled joystick thing on the front to replace some of the T8A's buttons. The "MULTI" button clicks in 4 directions and straight down. A little tricky for the thumb-fingered, but one adjusts.



---
Transmit, Receive and Extended Receive
Extended reception is obtained by holding down the [MULTI] and [SQL] keys while powering the unit on. I understand that newer units have this feature disabled to comply with a recent FCC rule change cracking down on receiving cell phone calls via the 1st IF. Sigh. My serial number is 01302.
Band
Ranges
NFM
WFM
AM
50
50.000 - 54.000
*
*
54.005 - 75.995
*
WFM
76.000 - 107.995
*
118
108.000 - 135.995
*
144
136.000 - 143.995
*
144.000 - 148.000
*
148.005 - 174.000
*
174.005 - 229.995
*
*
300
300.000 - 399.995
*
*
440
400.000 - 429.995
*
430.000 - 450.000
*
450.005 - 470.000
*
470.005 - 599.995
*
*
800
600.000 - 799.990
*
*
800.000 - 824.000
*
849.000 - 869.000
*
894.000 - 999.990
*
1200
1240.000 - 1300.000
*